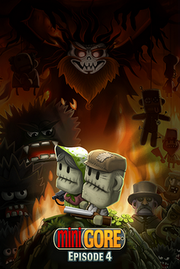 Episode 4 was released on the 17th of December 2010. This episode introduced multiplayer.
New Features
Edit
-cooperative multiplayer over WLAN.
- Co-op gameplay addition: Stay closer to your friend to increase the firepower.
- Tons of new John Gore dialogue and system that selects the comments randomly for each game to add variation.
- Elder Gore character pack. Grandpa and Grandma might be old, but they do know how to handle guns.
- Full retina display support. Includes splash screen, menus, HUD & Encyclopedia. New cover art for encyclopedia.
- Hires level backgrounds from the iPad version. (requires retina display)
- Raining snow on the snow level. (requires 3rd gen device or better)
- Many bug fixes and improvements: Bullets don't go through totems, new level emblems etc.