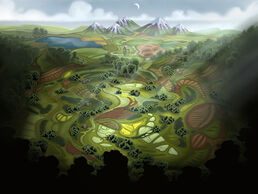 Hardland is the area where minigore is based. It is where all of the hardgore hunt land-piranhas but the locals just call them furries. Right now hardland consists of a forest area and a snow area. Each hunting area has a brown fence running around it.
Hardland consists of many trees and bushes. The best way to defend yourself is to stay on open ground.
Trees- The trees creep in from the outskirts of the hunting ground the can hide all furries.
Bushes- Bushes are scattered everywhere around hardland, they can only hide small furries.