Minigore is the game that this wiki is subjected to. It is a survival game developed by Mountain Sheep and published by Chillingo. It was first released on the 30th of July 2009.
In Minigore you start playing as a character called John Gore. You have to defend John from creatures known as furries by using John's gun. The aim of the game is to survive the longest.
Minigore is a basic dual-stick shooter featuring a control stick on the left to control the character and another on the right to aim and fire your weapon. The firing stick can be switched to an auto-aim button before the difficulty selection so that the app prioritises and destroy the enemies in order of threat. Keep in mind however, that your weapon may not have the firepower to destroy all furries if you run into a large mob of them.
Appearances In Other Apps
Edit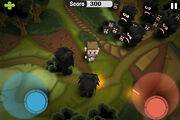 The lead character of minigore; John Gore has made a number of appearances in other apps.
John Gore has appeared as appeared as a playable character in Sway by Illusion labs.
Hook Champ
Edit
John Gore also appeared in Hook Champ as a playable character.
Guerrilla Bob
Edit
John Gore appears in Guerrilla Bob as the final boss. The storyline says that John and Bob grew up together when they were young, but chose to take different paths when they were older. The boss level features John Gore shooting his rifle and trying to collect clovers which make him turn into his beast mode.
Zombieville USA
Edit
John appears as a playable character in the Mikia Mobile game Zombieville USA.
Zen Bound 2
Edit
John has also appeared in Zen Bound 2 which has been released for the iPad.